Welcome to four listings that have completely blown us away this week - former government houses that have been completely transformed.
It's got the typical 'Pizza Hut' roof of government housing in the 1970s but apart from that, there is very little left to remind you of this home's former life.
Extended from three bedrooms into four and with the addition of a laundry, expanded bathroom and an ensuite, this home is proof that small homes in stunning locations can be the best blank canvases.
We're especially in love with the galley-style kitchen, the bathroom sinks and the mirrored robes.
9 Foley Place will be auctioned digitally on Wednesday 8 June 2022 at 6pm.
There's a massive trend in the Queanbeyan area of Karabar of first home buyers buying ex-government houses and renovating them into modern, beautiful homes.
This three-bedroom gem, close to Karabar High School, comes (literally) with a white picket fence and a low maintenance garden featuring a beautiful big backyard, common for the blocks of yesteryear.
We love the sage-coloured kitchen, the outdoor area out the back just waiting for a footy grand final and the chandelier in the hallway.
7 Boronia Crescent, Queanbeyan, will be auctioned at 6pm on the 1st June.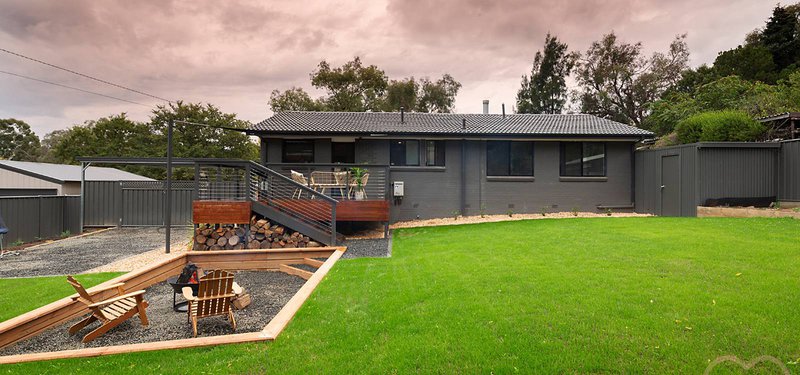 This could be the ex-govvie makeover to end all ex-govvie makeovers. From the hidden laundry and the charming fire pit out back to details like the kitchen splashback and that bathtub, there are way too many things to add to the list of 'What we love'.
According to sales agent Sally Strang, the house was built in the 1970s in a boom of government housing in the suburb.
An extension to the side of the home has added a bedroom, complete with its own mini deck. It's the stuff the original owners could only have dreamed about.
4 Wilari Place, Giralang, was sold by home.by holly last weekend for $1.04 million.
Okay, so this one - also located in Queanbeyan's Karabar region - is more of a blend of the old and the new. The bathroom wall tiles are very retro but in a colour and style that's certainly made its way back in.
The lounge room is sizeable and still features the original wooden door and window frames - definitely features of the 1970s that add character and are also back en vogue.
We love the original Hills Hoist in the backyard (!) and the Florida-style feature pillars on the front verandah.
10 Cassia Crescent, Queanbeyan, is for sale between $639,000 and $679,000.
Share via