From personal training and cake-making to eyelash extensions, massage and manicures - the number of public servants in Canberra with 'side hustles' is growing at a phenomenal rate.
But what if you're sick of welcoming clients directly into your lounge room or folding out the portable beauty/massage table in your spare room?
Say hello to this gorgeous listing in Flynn.
Set over three levels and just three years old, the absolute highlight of the property on Huelin Crescent is the lower floor - which includes an office, a laundry, and a fully self-contained one-bedroom studio. The entire floor has an entrance separate to the main house, and the studio features a kitchenette, storage space and an ensuite. Bonus - it's entirely sound proof.
"Of course it's ideal for multi-generational living but the first thing I thought when I walked into the property was, 'this entire floor is perfect for someone who runs a business from home'," says sales agent Bree Currall from Belle Property Canberra.
"A hairdresser, a masseuse, a cake-maker who needs a separate kitchenette with display area, or a beauty therapist - someone is going to absolutely love this home."
If the ground floor is perfect for running a people-focused or creative business during the day, the middle and top floors are even more perfect for relaxing with a wine after clocking off.
The middle (ground) floor is the hub of the home, featuring open plan living and dining, and an impressive kitchen with butler's pantry. Outside on the ground level is a sizeable, covered alfresco area, and a fire pit and pizza oven are close by.
Back inside on the ground floor is a guest bedroom with powder room and a children's retreat with two large bedrooms (and a laundry chute!) An easy to maintain, light-filled bathroom, a spacious study and an additional activity room are also located in the heart of the home on this floor.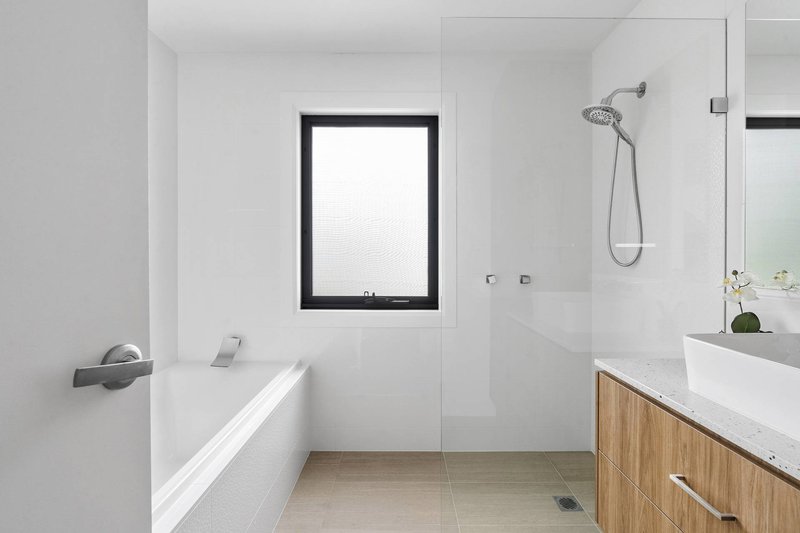 "And when the kids are in bed, it's time to head upstairs to stunning views out to the Brindabellas and Black Mountain," Bree says.
"The master suite has a private balcony, a big walk-in robe and exquisite ensuite equipped with two sinks and plenty of storage."
The design of the home is masterful, Bree says, but the location and other unique features make it a "must inspect".
"Kids don't have to cross a single road to get to Melba Shops or to Mount Rogers," she says.
"And if your kids could one day attend University of Canberra, it's a dream location.
"We're talking a forever home in a well established suburb of Canberra, highlighted by clean lines, modern finishes and classic touches."
25 Huelin Circuit, Flynn, will be auctioned on Saturday 19 February 2022 at 2pm.
Share via